Gone are the days in which a radiator was purely a source of heat. In modern homes, radiators are a vital accessory which add and enhance your environment, helping you to create your dream interior. The designer radiator market is booming. With so much to choose from, I've highlighted my top five types of designer radiators which are ideal for modern interiors.
Electric Radiators
Innovative and unique in design, I love how these glass radiators completely push the boundaries when it comes to designer radiators, looking more like a piece of modern art than a radiator. Coming in a range of colours and designs I particularly like the clear, glass version in the picture above. They are completely unique and look ultra modern.
Not only do these radiators look good, they are really handy to fit because they are electric so don't need a boiler and pipes to function. This is great for interior design as you can position it in the exact spot you want it. Trade Radiators have a particularly nice range of electric glass column radiators coming in a number of styles.
Vertical Radiators
Modern homes seek to utilise space to its maximum potential. Vertical radiators are a great way to do this. With vertical radiators becoming more and more popular, the majority of designer radiator companies will give you a selection of both horizontal and designer radiators. Not only are they practical, they are more energy efficient as heat is less likely to be trapped behind household objects. They also look really modern and will complement a contemporary living environment nicely. Ideal for rooms like the kitchen or bathroom they are the new 'must have' in radiator design.
Stainless Steel Radiators
Stainless Steel is a great material for radiator manufacturing. It is incredibly durable and even strengthens with cleaning making it ideal for environments which need to be kept completely clean. As the designer radiator market has expanded we have seen more and more stylish stainless steel radiators emerging onto the scene. Their natural silver shine lends itself to modern homes by creating a sleek, minimalist finish. One of the cheaper options, they are a sturdy, reliable option that won't cost you an arm and a leg.
Anthracite Radiators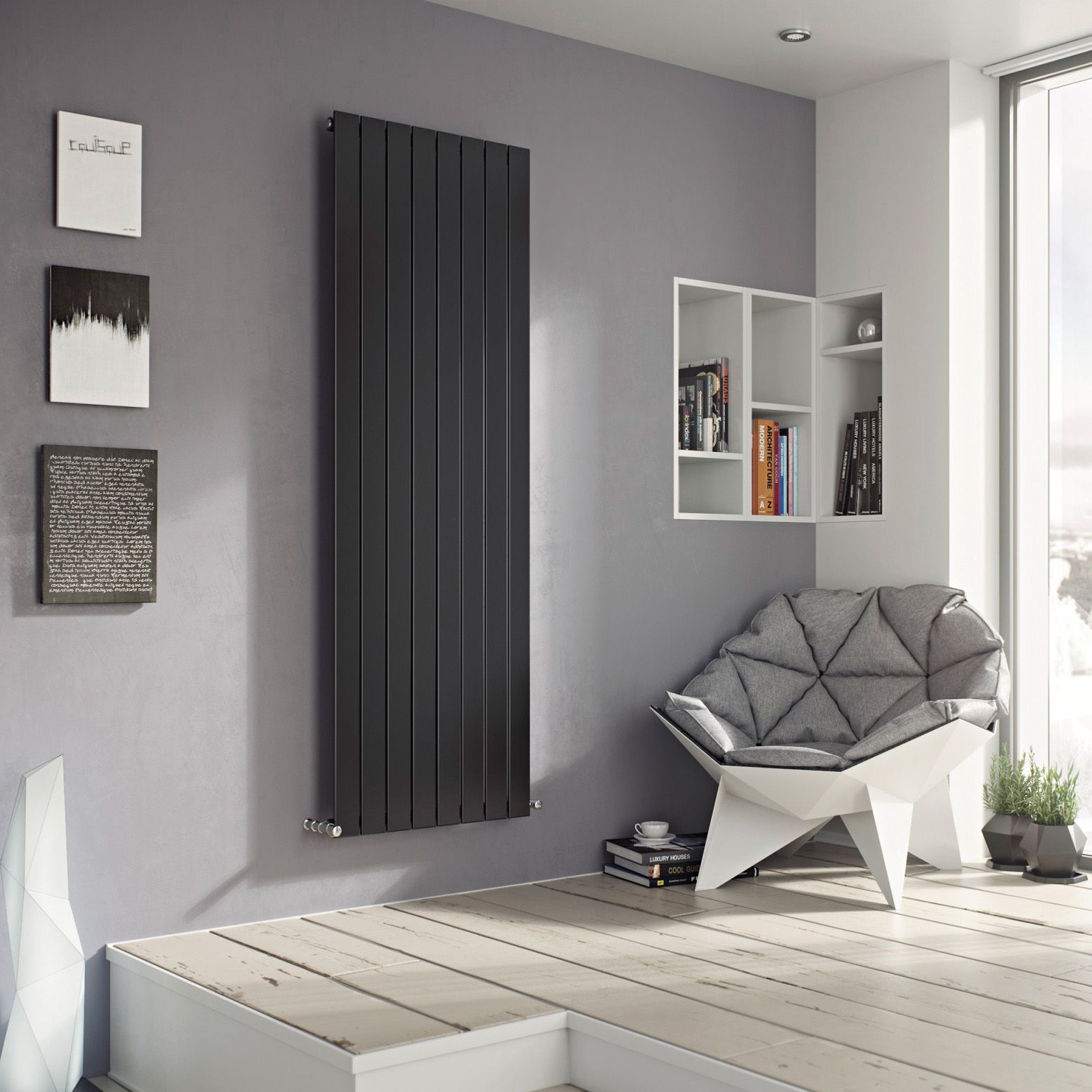 Anthracite is the new black when it comes to designer radiators. I have yet to find a designer radiator provider that does not have an anthracite range. The off-black colour lends itself nicely to modern homes, providing a neutral, slick finish that looks good with virtually any colour scheme. If you love this colour, you will easily find it in a whole host of materials, designs and prices.
Aluminium Radiators 
If you are looking to create an eco-friendly home, kit your house out with aluminium radiators. They are able to heat a room far quicker than any other material, ensuring minimal amount of energy wastage occurs creating a super energy efficient radiator. A slightly more expensive radiator initially, your monthly heating bills should drop after switching to aluminium.